Online Pokies in Australia
Where Did Online Pokies Come From?
Online pokies online are based on classic pokies, which can be found in casinos all over the world. Gambling machines that were the precursors to pokie games were developed in the late 19th century. The earliest gambling machines would have drums that were spun after the player inserted a coin and pulled the lever. The player could then receive prizes, such as drinks or cigarettes, based on the position of the drums.
Electromechanical slots, which are still in use today, were invented in 1963, with more advanced video slots being developed later on in 1976. Currently, there are over 7 million pokies in the world, with 200,057 of them being operated in Australia.
Internet pokies were created in 1994, when the first online casinos began to operate. The first online pokies were simply electronic versions of three-reel traditional pokies, which had rather simplistic graphics and functionality. But soon after, more advanced online pokies games were developed, which were more fun to play and more attractive to gamblers.
Best Australian Pokies Casinos Today:
Today, Microgaming develops a wide range of online pokie games for Internet casinos. Examples of popular Microgaming online pokies include Lion's Share, Thunderstruck, Age of Discovery, and Tomb Raider.
Basic Rules of Online Pokies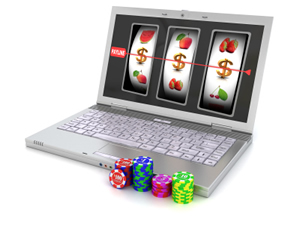 Most online pokies games operate in a way that is very similar to a real-life pokies machine that you would find in a casino. Traditional pokies are simply online versions of three-reel mechanical pokies. They usually have only one payline and allow you to win a pre-determined pay-out depending on the combination that appeared after a spin.
Video pokies have several reels and can have up to a few dozen paylines. They offer more advanced gaming features, such as "Wild" symbols that can be substituted for another one to form a winning combination, or mini-games that would allow a player to win more money if they hit the right combination.
Progressive pokies have a progressive jackpot that grows over time instead of a fixed jackpot amount. Multi-reel pokies are typically a grouping of several three-reel traditional pokies. With each spin, the gambler is actually playing on several pokies at the same time.
Types of Pokies Games That Can be Found Online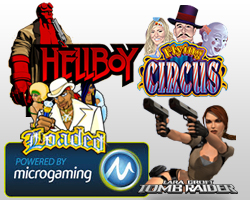 Microgaming has developed hundreds of different pokies online games over the years, so there is a high chance that you will find some that suit your tastes. Some of their most popular online pokies include games like Loaded and Flying Circus. They also make online pokies games which are themed after popular films or video games, like Tomb Raider and Hellboy.
Playing pokies at an online casino has numerous advantages over going to a regular casino. Most online casinos have a much higher selection of pokies games and a far wider range of betting amounts, allowing you to wager anywhere from $0.01 to $100 per spin. When you play at an online casino, you can also benefit from some very generous bonus offers, which could be double or more of the amount that you deposited when you signed up. In contrast, very few land-based casinos offer any type of bonus or free tokens to new players.